EMPLOYMENT OPPORTUNITIES AT INDIAN CAPITAL MARKETS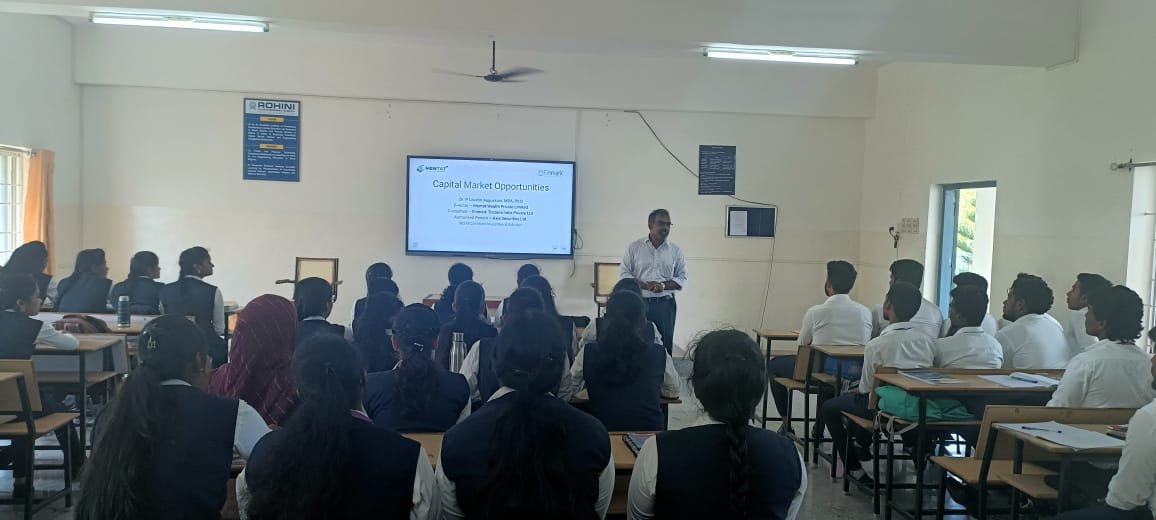 Department of Business Administration organized a guest lecture on "EMPLOYMENT OPPURTUNITIES AT INDIAN CAPITAL MARKETS" on 01/12/2022 for the first and second year students of MBA in the presence of the Principal Dr. R. Rajesh, the Head of the Department Dr.Prem Shankari. G and The gathering was welcomed by Ms.Kowshika, a student of MBA. Special welcome was extended to Dr.P.Lovelin Auguskani,Franchise Partner,Finmark Trainers India Pvt Ltd.,Chennai, presided over the session and gave the talk stock market and the benefits of trading. The speakers discussed the different types of shares like stock, future and option. They were also told about the tremendous growth of the capital market in India over the past few years.He also shared about the basic principles to be followed in stock market and emloymnet oppurtunities in Capital Market. An interactive session was arranged for the Finance specialized student at the end of the session.
Dr.PremShankari.G honored the guest for sharing his personal experience starting the business and guidelines to follow stock market. Ms.Kowshika extended thanking message to the head of the department, faculty members, and the management for showing keen interest in the development of entrepreneurial skill.
Share This Article:
Share This Article: